How many thermoplastic resins does your company use?
If you are using a wide variety of resins, it may be time to review and consolidate. Using a large cross-section of resins can cost your company a lot of time and money. There are many benefits to consolidating thermoplastic resins for plastic injection molding, both for the customer as well as the manufacturer.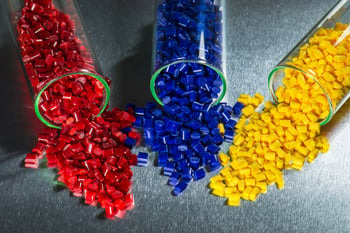 Financial Benefits to the Customer
When it comes to consolidating thermoplastic resins, there are a number of financial advantages to the customer. The key advantage is that your resins will be better priced by the pound and provide improved buying power with material suppliers. This also leads to improved relationships and support from resin suppliers. Lower resin costs equal lower piece price. Saving money is the ultimate end game!
Molding Process Improvement for Manufacturers
For manufacturers, consolidating resins greatly improves the molding process. Processors are knowledgeable of the resins and their characteristics and this results in a better processing window. When a manufacturer has a reduced number of resins, you also reduce production time, with efficient changeovers and less waste for your business. Furthermore, consolidating your thermoplastic resins can reduce the complexity of ordering materials, improve material consumption, and just in time inventory. This also helps in the reduction of scrap and contamination for manufacturers.
By consolidating resins, manufacturers also get reduced complexity of tooling and engineering. With fewer resins being used in the molding process, the design process becomes streamlined. Your designer is now familiar enough to choose the right gate size from the start. They will also have the ability to accurately model the shrink rates, and vent depths required for the tool. With a combination of all of these benefits, your ability to launch a tool successfully will be much higher. Consolidation helps to improve the DFM (Design for Manufacturability) process.
As part of VA/VE (Value Analysis/Value Engineering), we can review your current resins, and offer alternatives that will help consolidate the number of resins your company uses. As a success story, we have assisted customers in consolidating resins. This can ultimately bring 20% material savings to the customer!
Call our sales team at (800) 860-3974 to discuss how PPI can evaluate your current resins.