The acronym VLSB probably doesn't mean much to the average person. But to Pleasant Precision, Inc. it means assurance of the absolute highest quality product. Visual Limit Sample Boards are a product of original development and perfection. It's a system as much as it is a living communication tool.
Ensuring product acceptability is what VLSBs make easy to do. The system promises that there's truth in the motto "We build molds that work". So what needs caused the development of VLSBs?
Live communication
To continue the making of molds regularly, there needs to be a quality, ensured product coming through. And for a quality, ensured product to come through, there needs to be clear communication. Operators must communicate with the shop floor, and vice versa. Different shifts need to communicate with other shifts. The VLSBs accomplish this by being "living documents".
Each part produced is attached to the board, clearly displayed for quality assurance. Daily issues that might come up during production can be clearly seen, and updated accordingly, enough for rapid correction. It's no secret that communication is what oils the company machine. And literally, in the case of mold making.
Each part, with real samples
By putting each part on a VLSB - a real, physical part - every mold Pleasant Precision creates is easily seen and evaluated on its acceptability. There is no better sample product than an actual product. And with product in hand, operators can physically feel and assess quality. It only adds to the speed at which they can decide what steps to take toward acceptability.
Imagine a system where results are obtained immediately and there is no time wasted between evaluation and decision. Every part or product has its own board displayed for both easy access and detailed information. The part attached to the board helps decide how the product on the line becomes the best it could possibly be, every single day.
VLSBs make quality control the absolute easiest. With real parts to evaluate and a fast communication system, mold making cannot get any simpler or more efficient. Most of all, the sample parts combine steps in moving toward the highest quality craftsmanship.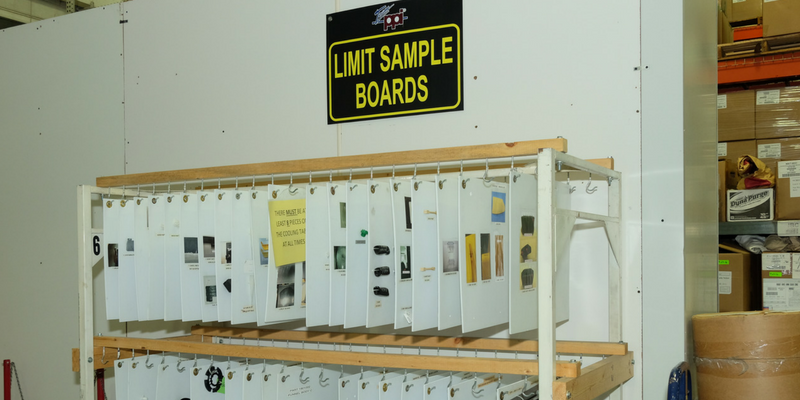 A clear vision of quality
Above all else, VLSBs exist to make sure every mold is held to a high standard of quality. Because of the boards, quality control, project engineers, and operators are thorough and well-informed in making the best moves for a product. For customers, modified parts can be sampled and submitted for approval before shipping.
Pleasant Precision developed the board system for the efficiency of its own mold making division, and most importantly, for producing unrivaled craftsmanship in its products. A quality tool is the final result of constant communication, practical sample evaluation, and acceptability of the most informed, well-developed product.
With VLSBs running like clockwork, building "molds that work" can't possibly be done more efficiently.