According to USA Today, the tool and die industry experienced 36% closure from 1998 to 2010. In addition, the employment fell 45% from the automotive industry downturn in the early 2000's and the 2008-09 recession.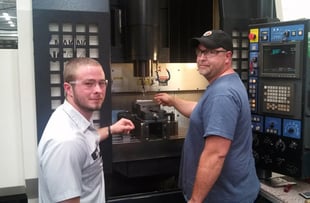 Team PPI is taking action. PPI hired Rob Jenkins in late July 2013 to begin an apprenticeship program aimed at becoming an elite tool maker and an eventual Process Engineer for the company. Rob's training is being overseen by multiple highly skilled tool makers. However, at this time Tom Rittenour is working with Rob on metrology, machine set-up, and 3D programming of this Makino SNC64 GS High Speed Machine.
For any questions you might have, be sure to call us toll free at (800) 860-3974 or email to info@teamppi.com.
---
Are you looking for ways to do more with less?
Download our Guide: Modular Molds Contribute to Lean Manufacturing Success
Shorten Time to Production
Decrease Costs
Compress Mold Change-over Times