Our Product Lifecycle Management Process moves product from ideas to production
The Product Lifecycle Management Process (PLM) is the process of managing the entire lifecycle of a product from inception, through engineering and manufacturing to service and distribution of the manufactured product.
Developing new product lines is difficult
With our Product Lifecycle Management Process, we help organizations succeed as they engineer and develop new products for competitive global markets. This process facilitates and manages communications and information shared with our customers, suppliers, and internal product planning team and development resources.
The core of our Product Lifecycle Management Process (PLM) is the discipline of the integration of the tools with methods, people, and processes through all stages of a product's life.
PPI has eight Product Lifecycle Management process stages: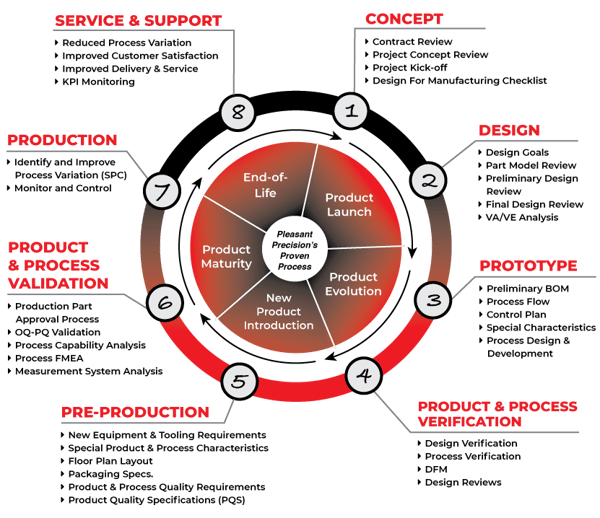 Concept — An idea or concept is thought of and introduced to the team. We kick-off the project and a design for manufacturing checklist.

Design — An initial design is created with a part model review and preliminary design review. Then we hold a final design review and a VA/VE analysis.

Prototype — First we create a preliminary BOM, process flow, control plan, and special characteristics. Then we begin the design and development phase.

Product & Process Verification — The design verification and process verifications are reviewed by conducting a DFM (Design for Manufacturability Study).

Pre-Production — This stage involves preparing new equipment and tooling requirements for special product and process characteristics. We also prepare new floor layouts, packaging specs, and introduce products and process quality requirements, along with process quality specifications.

Product & Process Validation — Here we work through the production part approval process, OQ-PQ validation, process capability analysis, process FMEA, and measurement system analysis.

Production — During production, we work to reduce process variation, while we monitor and control production through the monitoring of key process indicators (KPIs).

Service & Support — During this phase, we provide improved customer satisfaction as well as improved delivery and service.
Benefits of the Product Lifecycle Management Process
Our PLM offer several benefits when compared to other processes.
You will get:
Reduced time to market — Get your product designed, prototyped, and manufactured faster.

Improved product quality and reliability — Every product is designed with the utmost quality in mind.

Reduced prototyping costs — We can help develop products cost-effectively through value-engineering to meet project budgets.

Reduced waste — Our team works to reduce waste whenever possible.

Savings through the integration of engineering workflows

Process optimization — The whole process will be optimized for ultimate efficiency.

Improved forecasting to reduce material costs — We will look ahead at project desirables and scope to determine the best material at the right cost.
--
Call our sales team at (800) 860-3974 to discuss how PPI can help you through the Product Lifecycle Management Process.