Earlier this year, Pleasant Precision kicked off EOS training throughout the company.
What is EOS?
EOS is a complete set of concepts and tools that help businesses master the simple way of operating, resulting in leadership teams of growth-oriented companies systematically and permanently improving. The EOS Model focuses on six key elements of a business that must be managed and strengthened for success - Vision, People, Data, Issues, Process, and Traction. This model applies to big and small businesses alike, across any industry.
Why did PPI implement EOS?
At the end of the day, we needed to find clarity by defining what's important, who owns it, and exactly what success looks like for our business.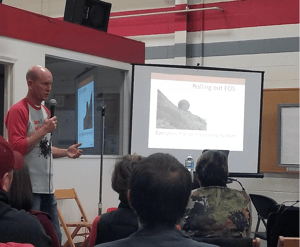 "We have two companies within Pleasant Precision, tooling is a job shop and injection molding is a production environment. Both had different operating systems that often conflicted. In order to bring clarity and a common direction we first had to be a leadership team who cared about each other's priorities. ESO provides that clarity." - Ken Jenkins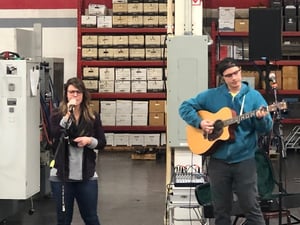 EOS Rollout
On January 2018, we kicked off EOS with our very own Max Razinger and his sister Sam playing music from their band SMAX. This fully aligned with the EOS World Tour "concert" theme for the day. Our employees enjoyed a relaxing afternoon learning more about the EOS process with corn hole, popcorn, and hot pretzels. Ron Pleasant lead the discussion identifying Pleasant Precision's core values -
Do what it takes
Be good at what you do
Do the right thing
With heart!
Our core values really identify who we are, and are our first step in getting everyone on the same page and establishing our vision.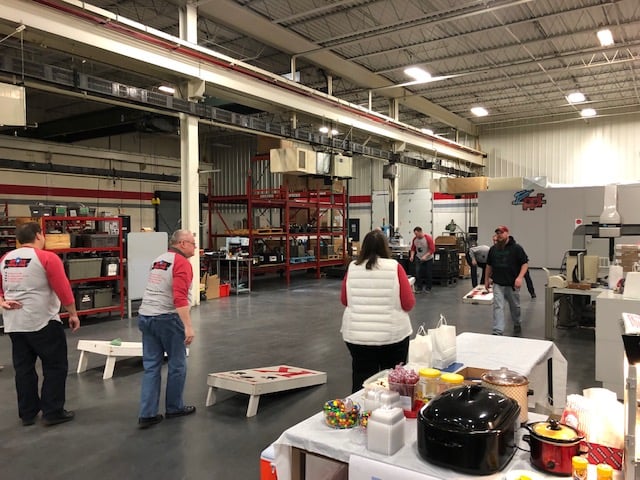 Next Steps
Moving forward, each department will start conducting their own Level 10 meetings. These meetings are opportunities for employees to identify the most important issues to tackle and better participate in the decisions and solutions.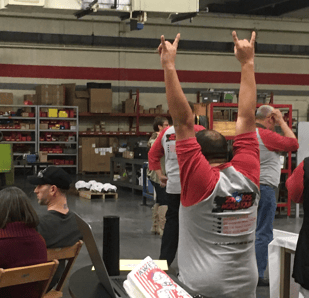 "A major issue in many companies is sharing the vision and involving the people. EOS gives the people a voice by involving the entire company in resolving issues. This allows the company to gain traction which in turn will help us achieve our 1, 3, and 5 year targets."
The goal is for our employees to come up with 90-day rocks that will allow Pleasant Precision to gain "traction". Once we further develop accountability, discipline, communication, and identify the right way of doing business from the ground up, our core processes become the most important. Gaining traction requires full commitment from our leadership teams to really make the vision for our business a reality.
For more information on EOS, please visit - https://www.eosworldwide.com/. For more information on how EOS is impacting Pleasant Precision, please follow us on social media or contact us at 419-675-0556!