It's well-known that trying to fit a square peg into a round hole (or round mold) is a useless effort. In fact, a lot of people might call it idiocy. But thirty years ago, Pleasant Precision took that as a challenge. What resulted was innovation. Be it square parts, circular parts, or crazy oblong parts, Round Mate® is the go-to answer.
The Round Mate® molding system is time-compressing, inexpensive, and precise. It's a system that has reached worldwide since 1987, across Europe, Asia, the Middle East, and here in the U.S. All the while, it continues to answer the question: how can you put a square peg into a round hole?
A pre-engineered, standardized molder
As a modular molding system, the Round Mate® is pre-engineered and is simple to begin working with. This only adds to the cost and time effectiveness of the design. Its vertical expansion capability and standardization makes it a popular choice for OEM device manufacturers, tool makers, and injection molders.
The system has a reusable mold base for speediness and ease. From the time it was born, the system has been known for the simple position master frame and interchangeable inserts it offers. The solution is standardizing bases, frames, inserts, built-in water cooling, and ultimately, masterful craftsmanship.
The ejector system is built-in, and make mold changes speedy by having ejector retainers accessible on the outside of the frame. No base work is necessary, vaulting you directly into high production or prototype runs.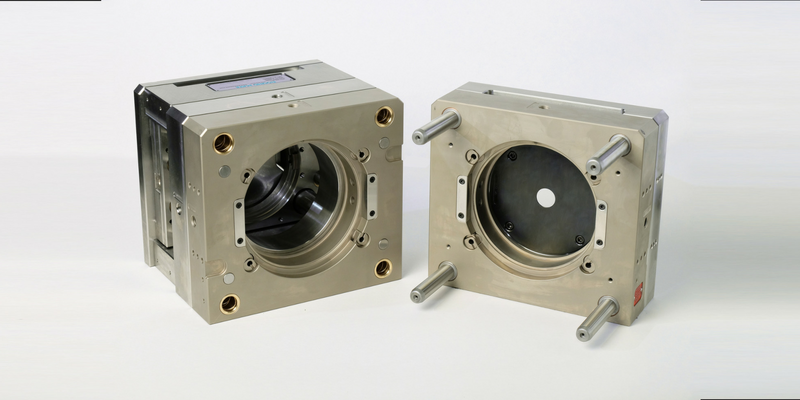 Cost and time efficiency
As an injection molder, the system can reduce mold cost up to 30 percent, and allows a low 10 minutes of mold change-over time. The built-in ejector system doesn't require tying-in. Forget worrying about change-over time and dealing with base work. Normally, putting a square peg into a round hole would take up a lot of your time, but after switching to this system you are given time. Time might as well be handed to you.
The prefabricated system is also quick to deliver. Yet another aspect of its time-saving ability is the speed to market, which is boosted by pre-engineering and supplemented by its inexpensiveness. You can be ready to go with the system in 2 to 3 weeks. Pair this with low change-over time, and you'll be quick to press and pressing quickly.
High-quality craftsmanship
No manufacturer, engineer, toolmaker, or anyone in the workforce for that matter, likes having to deal with poor tools and shoddy craftsmanship. Being a trusted machine is one of the most valuable functions of the Round Mate®.
Accurately fitting an insert is no trouble, as locator keys on the system are ground and fit to precision tolerances of 0.0002 inches. Inserts themselves are available off-the-shelf and by special request.
It's easy to see why Round Mate® is the crown of Pleasant Precision, Inc. Such a system has enough built-in parts to take away any worry about quoting, extra toolmaker work, and time compression. The modular system makes it apparent why flexibility and efficiency are so highly valuable.